Tuesday's BC pipeline explosion significantly cut down on the natural gas supply to British Columbia and the Pacific Northwest.  One of the two pipelines was re-opened late Wednesday, but is only running at 80 per cent capacity.  CKPGToday photo.
BC pipeline explosion cuts Canadian natural gas exports to Pacific Northwest
This article was published by the US Energy Information Administration on October 11, 2018.
A rupture and explosion on Enbridge's 36-inch diameter mainline, BC Pipeline, near Prince George, British Columbia, has reduced U.S. natural gas imports from Canada into the Pacific Northwest.
The BC Pipeline links upstream natural gas production in Northeastern British Columbia with downstream distribution markets in southern British Columbia and deliveries into the U.S. Pacific Northwest.
Before this incident, the United States was importing about 1.1 billion cubic feet per day (Bcf/d) of natural gas from British Columbia into the Williams Company-operated Northwest Pipeline at the Sumas import point along the U.S.–Canadian border.
The BC Pipeline transports natural gas supplied to this point and Sumas imports generally account for about a quarter of U.S. Pacific Northwest natural gas annual average consumption.
No date has been specified yet for the full resumption of service on the 36-diameter pipeline segment of the damaged pipeline.
Until natural gas flows are fully restored on the BC Pipeline, some of the potential options available to the U.S. Pacific Northwest to manage short-term, regional energy requirements, include:
Generating more electricity from hydroelectric facilities and other non-natural gas sources
Decreasing natural gas deliveries to electric generators on the Northwest Pipeline
Reducing Pacific Northwest electricity exports to California
Relying more on Pacific Region natural gas storage withdrawals
Making public appeals to conserve natural gas
Redirecting natural gas inflows to points other than Sumas import point, to the extent possible
The United States has two underground natural gas storage fields in the Pacific Northwest with a combined working gas capacity of about 41 Bcf (see map)—the Mist Underground Natural Gas Storage Facility (Mist) and the Jackson Prairie Underground Natural Gas Storage Facility (Jackson Prairie).
Both facilities are located in EIA's Pacific Region for underground natural gas storage reporting. Natural gas storage withdrawals at these facilities could help balance regional energy needs.
Jackson Prairie is located in Lewis County, Washington, and is the largest natural gas storage complex in the Pacific Northwest. Jackson Prairie is an aquifer field and has a total working gas capacity of 24.6 Bcf and a maximum withdrawal deliverability of 1.15 Bcf/d.
On October 11, 2018, Northwest Pipeline issued a Critical notice update indicating that the Jackson Prairie storage facility, which was scheduled to be on planned maintenance from October 10-12, has resumed normal service.
The Mist facility is located in Columbia County, Oregon, and is owned by the Northwest Natural Gas Company. The Mist facility has a total working gas capacity of 15.9 Bcf and a withdrawal capacity of 0.5 Bcf/d.
Selected U.S. Pacific Northwest natural gas infrastructure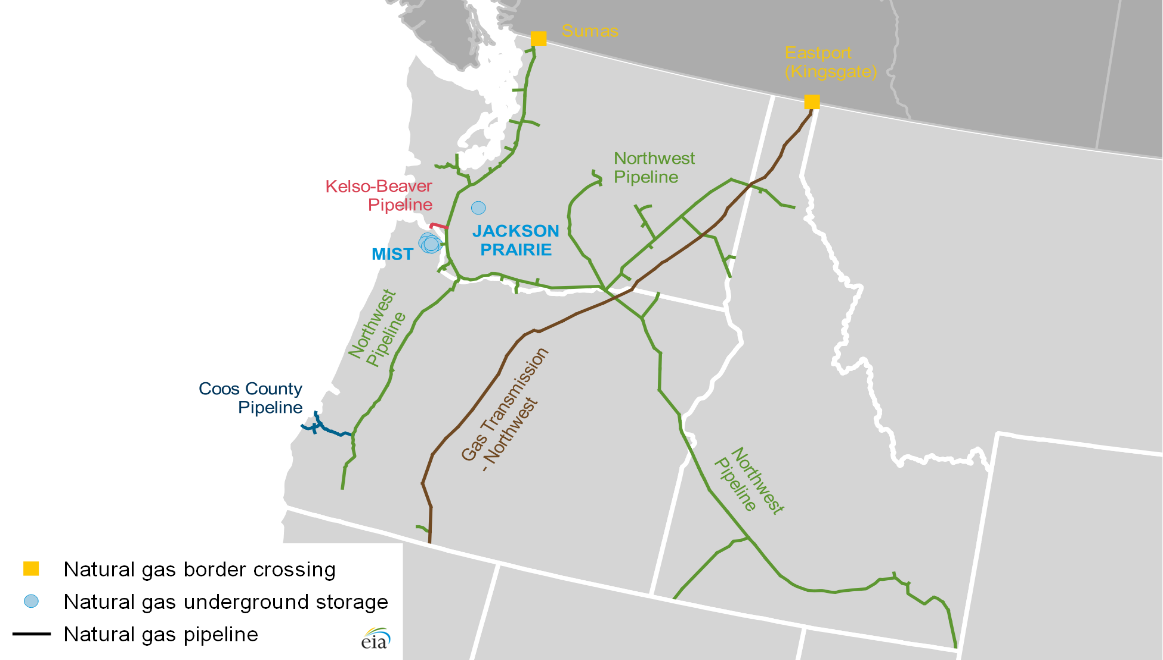 U.S. Pacific Northwest natural gas flows have changed as a result of the BC Pipeline outage. During the 30 days before the incident, Northwest Pipeline's natural gas receipts at the Sumas border point averaged more than 1 Bcf/d. As of the afternoon on October 11, 2018, Northwest Pipeline flows were zero according to the Northwest Pipeline informational postings on its electronic bulletin board.
Gas Transmission Northwest (GTN), an interstate natural gas pipeline that transports Canadian natural gas from the Western Sedimentary Basin to markets as distant as Southern California, has been constrained.
As a result, GTN's U.S.–Canadian border point at Kingsgate is not an outlet for incremental gas. Lastly, natural gas flows on the Northwest Pipeline flowing from Wyoming eastward into Washington State are also constrained.
Facebook Comments