US refineries operated at record levels during 2017
The United States exported 186,000 barrels per day (b/d) of jet fuel in 2017, the eleventh consecutive year of increasing gross jet fuel exports, according to the U.S. Energy Information Administration.
Almost two-thirds (62%) of U.S. jet fuel exports went to countries in Latin America and the Caribbean, especially Mexico. Relatively high domestic production and a growing international aviation industry have established the United States as a net exporter of jet fuel for the seventh straight year.
The United States exported jet fuel to 54 destinations in 2017, with 22% of these exports going to Mexico. U.S. exports of jet fuel to Mexico increased from 4,000 b/d in 2010 to 40,000 b/d in 2017 because of factors such as the liberalization of Mexico's energy markets, increased air traffic, and low utilization at Mexico's refineries.
International tourism has grown steadily over the past several decades. Latin America and the Caribbean include many popular tourist destinations, and the United Nations World Tourism Organization estimated that international tourist arrivals in 2017 increased by 7% in South America and by 4% each in the Caribbean and Central America. Many of these countries have increased their imports of U.S. jet fuel because of a lack of sufficient refining capacity to meet domestic jet fuel demand.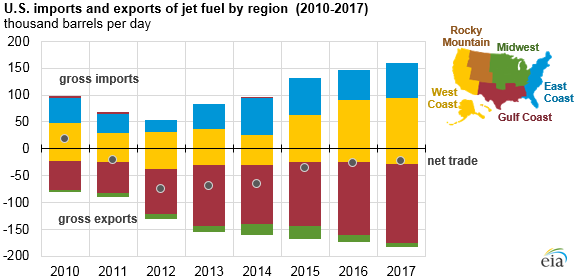 U.S. refineries operated at record levels during 2017, working to produce enough jet fuel to support the growing export market. Petroleum products are typically exported from U.S. Gulf Coast ports, primarily Houston and New Orleans. About 80% of all U.S. jet fuel exports were shipped from the Gulf Coast in 2017.
The East Coast and West Coast regions of the United States remain net importers of jet fuel because of demand in metropolitan areas that host some of the busiest airports in the world. In particular, the West Coast has become increasingly reliant on jet fuel imports from Asian countries because regional consumption has outpaced production.
Facebook Comments