This article was published by the Carlton Newsroom on Nov. 7, 2023.
By Alyssa Tremblay
After weathering a summer of wildfires, tornados and record-breaking rainfall and heat, many Canadians are left worrying how we can address climate change fast enough to prevent future environmental disasters.
Thankfully, there is an immediate way for us to pull the emergency brake on global warming. By reducing the amount of methane – a potent greenhouse gas that traps heat in our planet's atmosphere – released into the air, we can slow global temperature rise and allow time to implement parallel mitigation solutions for trickier greenhouse gases like carbon dioxide.
But exactly how much methane is Canada producing and where is it coming from?
As the national hub for the study of methane, Carleton University's Energy and Emissions Research Lab (EERL) led by engineering professor Matthew Johnson recently completed the country's first-ever upstream oil and gas methane census, collecting vital data to help Canada meet its ambitious target of reducing 75 per cent of all methane emissions produced by our oil and gas industry by 2030.
Through innovative aerial and on-site research supported by $2.5 million in funding from international, federal, provincial, industry and non-governmental sources, the lab's team of researchers have achieved the impressive feat of comprehensively detecting and documenting methane emissions at thousands of oil and gas sites across Western Canada.
"This is the first time anyone has produced a proper, measurement-based methane emissions inventory for the country – or any country, for that matter," says Johnson.
"We finally have verified numbers to work with."
In the last year alone, EERL researchers published seven academic papers, including one detailing the methodology they developed to measure and document methane emissions that researchers across the world can use to create their own national inventories.
This milestone achievement comes at a key moment, as both Europe and the U.S. are looking to require measurement standards for oil and gas, and the Intergovernmental Panel on Climate Change (IPCC) and U.S. National Academies of Sciences have each launched efforts to develop protocols for incorporating atmospheric measurements into official methane inventories.
"We need to monitor, report and verify methane emissions on at least an annual basis to meet Canada's 2030 target, and I boldly think we've figured out a way to do that in our little lab here at Carleton."
The Race to Reduce Methane Emissions
Methane is a hot topic of discussion when it comes to addressing climate change.
The colourless, odorless gas clocks in at nearly 83 times more potent than carbon dioxide over a 20-year span and on its own is responsible for dangerously raising the global average temperature by over half a degree.
To address this threat, 150 countries, including Canada, signed a Global Methane Pledge at the United Nations Climate Change Conference in November 2021.
Meeting the 2030 methane reduction target is an essential step in the collective effort to keep the global average temperature rise below 2°C – making this pledge the most significant international climate action currently underway.
"We have a short window of time to do something that really matters to slow down global warming. We have a one-time shot to pull this big lever."
With the deadline only six years away and Canada planning to release new methane regulations before the end of 2023, Johnson and his team are working around the clock to ensure policy makers have the data they need to make informed decisions.
"Companies would self-report methane emission numbers and that was it," Johnson explains. "Nobody really checked to see if the numbers were accurate – and it turns out, they weren't."
In fact, Johnson and his team discovered that the actual quantity of methane produced by Canada's oil and gas sector in the provinces of British Columbia, Saskatchewan and Alberta is consistently far higher than what was previously reported.  Even more importantly, the sources of these emissions are often different from what is currently assumed in existing federal inventories.
This is in part because methane leaks can be hard to track, seeping out invisibly from compressors and other equipment used in drilling and production.
Slowing Down Global Warming is Possible
Unfortunately, the EERL's important contributions to international climate change efforts have at times themselves been hindered by global warming's destructive side effects.
For instance, the thick smoke caused by this summer's forest fires in British Columbia prevented researchers from flying planes over certain regions to aerially measure methane levels.
Still, as the realities of climate change darken our everyday lives, methane mitigation offers a hopeful ray of light.
As Johnson explains, Canada is prioritizing its energy sector not only because it's the biggest contributor to national methane emissions (agriculture and waste management are offenders #2 and #3) – it's also the simplest to reduce.
"We should absolutely be able to get to 100 per cent reductions or near-zero methane emissions in the oil and gas sector. This is a fundamental requirement of reaching net-zero goals."
In the sprint to mitigate climate change, Johnson describes himself as an environmentalist, but also a pragmatist.
"Some systemic issues are harder to solve than others," he says. "We're not going to suddenly stop using fossil fuels overnight, change our entire food system or instantly enable large-scale carbon sequestration. But when it comes to methane emissions, we have a solution and we can implement it right now."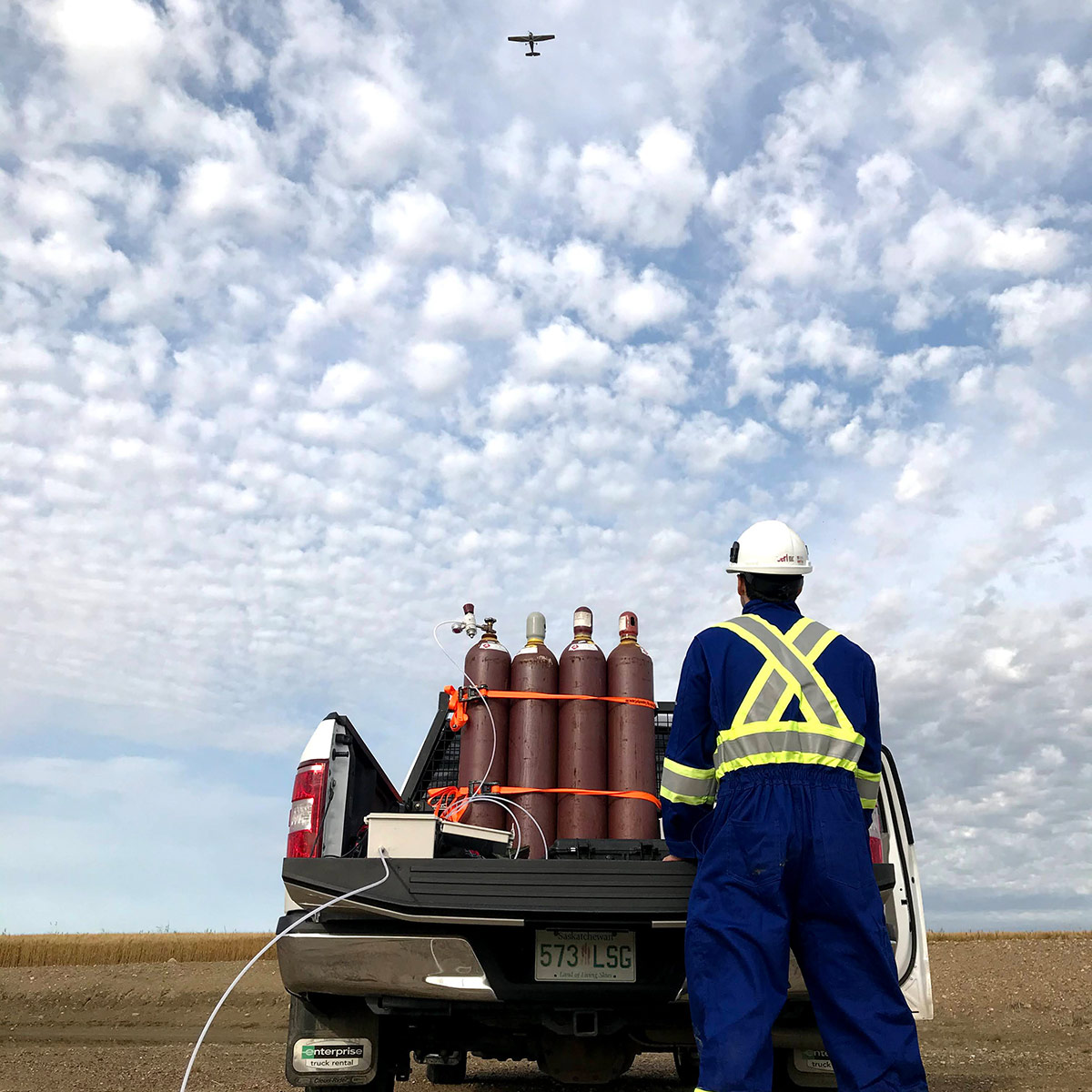 The key is measurement-based policies and, perhaps even more importantly, ongoing independent measurements. Since starting survey work in 2019, the EERL team has witnessed companies reduce unlit flares, voluntarily upgrade leaky equipment and install methane destruction technologies, all just from hearing that researchers were measuring methane emission levels at their worksites.
"Knowing that they're being measured has had measurable impacts," Johnson says.
"It encourages businesses to be proactive about reducing their methane emissions, even if they're not being specifically, individually cited."
As one Canadian supplier of methane destruction technology told Johnson with a smile, his best sales tactic is to reference "that team from Carleton who's measuring this stuff will be back again next year."
Facebook Comments